I wrote this last year, or some where in the beginning , but the relevance is still so much there. The news reports repeat the same themes...dead fish,oil spills, people on two end of a spectrum , human war with nature or progress....The relevance of news item today was-"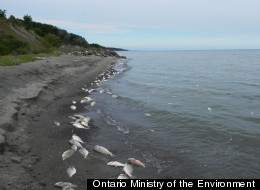 Well, it certainly is eerie.
Tens of thousands of dead fish, along with dead seagulls, washed up on the shores of Lake Erie on Wednesday afternoon in yet another mysterious mass animal death.....
Officials are still awaiting more intensive lab analysis results on the dead fish found at Lake Erie, which included carp, sheepshead, perch, catfish and suckers.
"
Reading the pages of "The Riverbones" had started out as a space filler for times spent waiting ... at places and points when I wished to feel less of wastage,still it got me right back to the topic of wastage. This is what surrounds us--costly ineffective recycling paths in the developed nations, more as an afterthought, or costly preventative measures as a band aid after disruption of entire communities.
The guaymi tribe in panama are protesting.
..a brief headline flash over the BBC news , meant to be just a barely consequential mention.yet it caught my eye,so there it was-the guaymi angry over copper mining and protesting.
In reality do we care at all, other than to possibly have a brief twinge of regret once in a decade or so ; but then it is easy to forget that discomfort , for who would choose and want to deal with discomfort after all.
My last visit to my child-hood village had caused such a brief twinge, with a tinge of longing for a past, longing for the thick darkness surrounding our house with tall trees -- all varieties and sizes. The reality of a time as I recalled, where resources had value, not as timber or pest... is long gone from even the subconscious memory of most .Now there are trees with a green canopy but of even height and of the same genre,all with their milky sap caking the curvy cuts on their bark.
The creek bed is littered with plastic bags and bottles that drag at the oil streaks and muddy bottom. There are no streaming array of fish ready to swim away. In fact it is all dying...the creek, the land ,everything. there are no animals or birds, there are no snakes for me to fear, nor the giant millipedes that disgusted me as a child, which lived on the forest floor,recycling the waste of a tropical forest. Now by the creek bed there is no worry about the suckers of a leech, for there are no leeches. They are all dead..so many things-all gone.Some type of things have gone completely extinct including my favorite wild fruits.The sparkling creek has lost its sparkle , instead it transports pollutants in its shallow gunk-the runoff from the rubber estates that surround and shrouds its life.
As disillusioned as I am, I know there is very little I can do as people will not change without an inherent awareness or being forced to do so ,especially when it comes to putting nature above their immediate gratification need, be it financial or just comfort.
I hope that we come together to respect and support all who try to prevent the death of beauty and nature,as yet others continue to unabashedly rape the forests all over the world.
My heart aches as there are no identifiable bits left of my friends, be they the trees, a bat winging in the dusk, a kingfisher on a dive , turtles peeking from spongy marsh, the old mango tree that leans with its bounty of tiny mangoes, the jack-fruit tree with basketball fruits....the list just goes on. I will miss them.The people of the village have morphed but I just want to remember them as they were, for now their new form is bound and limiting like the land .